As we are now in 2009, we can expect to see a great many articles trumpeting the 70th anniversary of the fabled "Best Movie Year," 1939. This is tradition, dating back probably to every 9 year of every movie-oriented decade.
But is 1939
really
the best year for movies? I don't know about that. It was great, but after the watershed year 1979, I started having my doubts. In 1989, I started noticing a trend. And in 1999, I was sure I was on to something.
I have a theory: that the 9 year in every decade is the best of that period. Why? I can only surmise that filmmakers working during the decade in question want to get out their final word on the era, and thus save their best for last. But, in the end, who really knows why: maybe it's simply just chance working here. Still, it's a very definable trend.
Again, many of these 1949 movies have been talked about for years, so I withhold from detailing much about them. Suffice to say that they are all worth seeing. So:
60 years ago this year, we celebrate:
Abbott and Costello Meet the Killer, Boris Karloff
(what more needs to be said?)
Adam's Rib
(Seminal Spencer Tracy/Katherine Hepburn romantic comedy about battling lawyers, directed by George Cukor)
The Adventures of Ichabod and Mr. Toad
(fun Disney 2-reeler, released as a double-bill with
The Wind in the Willows
)
All The King's Men
(Robert Rossen's Best Picture Huey Long bio-pic, with Oscar-winners Broderick Crawford and Mercedes McCambridge)
Battleground
(William Wellman's snowy Battle of the Bulge war picture, with award-winning cinematography)
The Beautiful Blond from Bashful Bend
(hilarious Betty Grable western, helmed by Preston Sturges)
Begone Dull Care
(groundbreaking experimental movie by Canada's Norman McClaren and Evelyn Lambart)
The Bicycle Thief
(made in 1948, released in the US in '49; heartbreaking Italian neo-realist drama by Vittorio De Sica; one of the first Oscar-winners for Best Foreign Language Film, and certainly one of cinema's most loved products)
The Big Steal
(Don Siegel-directed film noir with Robert Mitchum)
Border Incident
(precient Mexican border drama by Anthony Mann)
Champion
(nasty boxing movie with breakthrough role for star Kirk Douglas)
Colorado Territory
(Raoul Walsh's unjustly forgotten Western masterpiece with Joel McCrea and Virginia Mayo)
Come to the Stable
(moving Christmas-themed film with Loretta Young and Celeste Holm as ambitious nuns)
A Connecticut Yankee in King Arthur's Court
(beautiful Mark Twain adaptation with Bing Crosby)
The Fallen Idol
(1948 movie, released in the US in '49; excellent Carol Reed-directed intrigue with Ralph Richardson in the lead)
The Fighting Kentuckian
(fun John Wayne vehicle co-starring Oliver Hardy)
For Scent-imental Reasons
(the first major Pepe Le Pew Warner Brother cartoon, and an Oscar-winner for Best Animated Short)
The Fountainhead
(King Vidor's version of famous Ayn Rand novel, with Cary Cooper and Patricia Neal)
The Heiress
(William Wyler's shattering translation of Henry James'
Washington Square,
with Oscar-winner Olivia De Havilland, Montgomery Clift, and Ralph Richardson)
I Shot Jesse James
(debut film from the legendary Samuel Fuller)
I Was a Male War Bride
(raucous Howard Hawks comedy with Cary Grant in drag)
In The Good Old Summertime
(landmark Judy Garland musical)
Intruder in the Dust
(Clarence Brown's sobering racial drama, adapted from William Faulkner's novel)
It Happens Every Spring
(incredibly hilarious baseball comedy with Ray Milland)
Jolson Sings Again
(sequel to
The Jolson Story
, with Larry Parks again playing the legendary entertainer)
Kind Hearts and Coronets
(classic British comedy with Alec Guinness assaying a record eight different roles)
Knock on Any Door
(typically hard-edged film noir from director Nicholas Ray and star Humphrey Bogart)
A Letter to Three Wives
(Joseph L. Mankiewicz won the first of his Oscars for directing this clever melodrama with Jeanne Crain, Linda Darnell, Ann Sothern, and Kirk Douglas)
Little Women
(the second film adaptation of Louisa May Alcott's famed book, with Elizabeth Taylor, Janet Leigh, June Allyson and Margret O'Brien as the Marsh girls)
Long-Haired Hare
(arguably the best of many Warner Brothers cartoons of that year, with Bugs Bunny battling a jerky opera star)
Ma and Pa Kettle
(hailing from 1947's
The Egg and I
, the first of the famed series starring Marjorie Main and Percy Kilbride as the humorous country couple)
Madame Bovary
(stunning Vincente Minnelli adaptation of Gustave Flaubert's literary tragedy, with Jennifer Jones, James Mason, Louis Jordan and Van Heflin)
Mighty Joe Young
(the gentler
King Kong,
with Oscar-winning special effects from Willis O'Brien and the young Ray Harryhausen)
Mother is a Freshman
(funny Loretta Young starrer, directed by Lloyd Bacon)
My Friend Irma
(the first screen outing for then-supporting-players Dean Martin and Jerry Lewis)
Neptune's Daughter
(colorful Ester Williams musical)
On The Town
(stunning sailors-on-shore-leave musical--one of the first films shot on location in New York City--with Gene Kelly, Frank Sinatra, Jules Munshin, Betty Garrett and Ann Miller; the first directorial collaboration between Gene Kelly and Stanley Donen)
Passport to Pimlico
(much-loved British comedy with scripting by T.E.B. Clarke)
Paisan
(made in 46, released in the US in 49; Roberto Rossellini's neo-realist landmark, co-written by Federico Fellini)
Pinky
(Elia Kazan's controversial racial drama with Jeanne Crain, Ethel Barrymore, and Ethyl Waters)
The Reckless Moment
(creepy Max Ophuls film noir with James Mason)
The Red Pony
(Lewis Milestone's lovely family film, adapted from John Steinbeck, with Robert Mitchum and Myrna Loy)
Sampson and Delilah
(colorful, overblown C.B. DeMille Biblical epic with Victor Mature and Hedy Lamarr)
Sands of Iwo Jima
(John Wayne, in one of only two Oscar-nominated performances, as a hard-bitten WWII sergeant)
The Secret Garden
(the first sound adaptation of Frances Hodgson Burnett's children's novel, with child stars Margret O'Brien and Dean Stockwell)
The Set-Up
(Robert Wise's sobering boxing drama--done in real time--with incredible lead performance from Robert Ryan)
She Wore a Yellow Ribbon
(John Ford's beautiful color western, with John Wayne and Ben Johnson)
Sorrowful Jones
(knee-slapping horse race comedy starring Bob Hope and Lucille Ball)
Stray Dog
(rare film noir from Akira Kurosawa, starring Toshiro Mifune)
The Stratton Story
(Sam Wood's baseball biopic, with James Stewart as handicapped pitcher for the Chicago White Sox)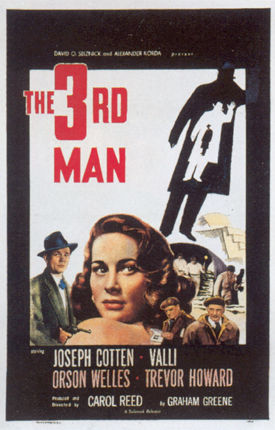 The Third Man
(unforgettable Carol Reed film noir, with perfect performances from Joseph Cotton and Orson Welles)
Tulsa
(very entertaining Oklahoma oil rig saga with Susan Hayward and Robert Preston)
Twelve O'Clock High
(excellent WWII bomber movie, with Gregory Peck and Supporting Actor Oscar-winner Dean Jagger)
Under Capricorn
(low-key Hitchcock thriller with Ingrid Bergman and Joseph Cotton)
The Wind in the Willows
(fun Disney 2-reeler, released as a double-bill with
The Adventures of Ichabod and Mr. Toad
)
White Heat
(James Cagney returns to crime movies in perhaps his most famed performance as the despicable Cody Jarrett; "Made it, Ma! Top of the world!")
An incredible movie year, with many firsts!
56
titles represented here, 15 more than in "greatest movie year" 1939. Excellent year for John Wayne, who stars in three of the films mentioned here. Anyway, part 3 of
The 9 Years
continues soon with 1959!