In the spring of 2008, I was wandering around New York City when I saw a stunning poster plastered all over a city wall.
Always on the lookout for new movie posters (which trump trailers as my preferred way of being notified about new films), I saw this masterful work of art glued to these battered bits of particle board and exclaimed inside "WHAT IS
THIS??
" I read the fine print. At the top, it said "David Finscher and Spike Jonze Present." Two heavy-hitter directors, that's for sure...but they just were generously lending their names as helpful "presenters" of the project, much like David Lynch did with Terry Zwigoff's
Crumb,
for instance. Still, I was impressed they liked this movie enough to do that.
And I read on. No one I knew was involved...and then I got to the writer and director credits. Tarsem Singh (pictured below), acclaimed director of arguably the best music video ever, REM's "Losing My Religion," was at the helm. I then knew
The Fall
was going to be an event. Singh's 2000 release
The Cell
was a flawed but strangely beautiful movie. However misbegotten it was (and I
did
have many problems with it), I knew when I saw
The Cell
that at least a new and ambitious autuer was upon us. But, by 2008, I had totally forgotten about Tarsem (as he was known earlier, in his MTV-Award-winning days). He had seemed to have disappeared from the moviemaking scene in the intervening years. So I got a rush when I saw that
The Fall
, after a long 2-year run as a film festival staple, was soon to hit theaters. I knew nothing about the movie's plot, and
wanted
to know nothing about it. I knew only that it had to be seen.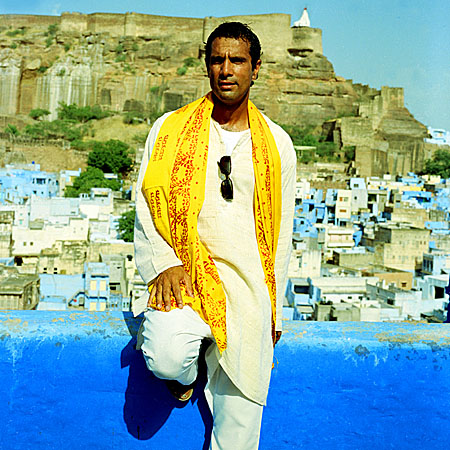 The Fall
is the best movie of 2008 for a number of reasons. It reminds us of the power of imagination. It highlights an unusual relationship, beautifully played by two largely unknown leads. It is visually stunning (to say the least). And, though it is a period piece, set in the 1920s, it has a lot to say about the sickly current state of movies.
Now, I must go off on a tangent.
In a year that gave us not only the coddled, overrated
The Dark Knight
, but also
Iron Man, The Incredible Hulk, The Punisher,
another James Bond movie (
Quantum of Solace
), another Indiana Jones movie (
Indiana Jones and the Kingdom of the Crystal Skull
), and
The Spirit,
(not to mention TV's
Heroes
), I think its safe to say that the Superhero meme has taken over moviedom. And there's more to come, with
Watchmen
now being touted as the movie we should be most looking forward to in 2009 (yawn).
But what do superheroes mean to us moviegoers? Do we or should we care about them as characters? Take, for instance, Bruce Wayne--in my view, this is hardly a person about which we should give two shits. Honestly: it's hard to muster up any feeling whatsoever for spoiled rich boy Bruce Wayne and his dim, ineffective grappling with mental illness, and with the admittedly unfair and bloody death of his parents. Even
The Dark Knight
itself is clearly uninterested in him; unlike in the vastly superior
Batman Begins,
there's not one shining moment for its star, Christian Bale. Let's face what we all know to be true:
The Dark Knight
would not be memorable at all were The Joker not in it. Subtract the late Heath Ledger's
truly incredible
supporting performance from the mix and
The Dark Knight
melts into a shapeless mess. But this should come as no surprise. At its heart, in whatever form it takes, the Batman franchise is
REALLY
all about its
villains;
this makes Christopher Nolan's new take on Batman not so far away from its campy 60s-era TV progenitor, for which millions of viewers tuned in each week to see Vincent Price as Egghead, Cliff Robertson as Shame, Cesar Romero as The Joker, or Burgess Meredith as The Penguin (the show's impressive guest star roll call could go on and on). Already, love-blinded fanboys all over the net are frothing at the mouths as they speculate about who'll be cast as Batman's next big screen nemesis, with Marion Cotillard (Oscar winner for last year's wonderful
La Vie En Rose
) intriguingly being submitted in some corners as the perfect Catwoman.
See, the villain is definitely the thing. All the movie's irritating fans crow about is how "relevant"
The Dark Knight
is to our present socio-political climate, comparing it ridiculously to
The Godfather Part II
in terms of highbrow quality. Namely: they like to make correlations between the chaos-loving Joker and the terrorists bedeviling our collective psyche these days. But the terrorists aren't in this thing just to create upheaval (though it might seem as such by the less attentive among us); they've got they're own reasons for creating the mayhem that they do--some of them are even understandable (if reprehensible). To match their politically- and culturaly-motivated efforts up to The Joker's merely-for-sick-fun actions proves a particularly dim worldview is endemic amongst Batman fans.
I have to posit this thought as well: if Bruce Wayne is such a great guy, instead of spending all his money on thrillseeking battles with nasty people, why doesn't he give some of his trillions to the more downtrodden denizens of the world? The fact that so many movie fans hold the "hero" of
The Dark Knight
up to such high regard tells me one depressing thing: they think make-believe guys in tight suits who kick the asses off bad guys are MUCH more interesting than guys who might direct their efforts and their cash in much more conventionally constructive directions.
The amazing thing about Christopher Reeve as Superman was that, throughout his charming and heartfelt performance, he convinces us that Clark Kent and Superman were one and the same person. Therefore, we cared. Not so with anyone who has played Batman in the movies. Michael Keaton as Bruce Wayne and Michael Keaton as Batman? Two different people. Christian Bale as Bruce Wayne and Christian Bale as Batman? Two different people (and, yes, I realize that, in both cases, this is by design, but so what? It still distances us from the character, and stands as a fundamental flaw in the Batman persona). Dismissing the Val Kilmer and George Clooney Batmans outright, this makes Adam West the ideal Batman, 'cuz he's a campily square, unctuous ass with or without the blue leotard. But let's remember: Chris Reeve as Clark Kent and Chris Reeve as Superman? Same lovable, idealistic, moral guy. Thus,
Superman
(Richard Donner, 1978) and
Superman II
(Richard Lester, 1980) remain, for me, the best superhero movies made to date (not including Indiana Jones and James Bond movies; both are superheroes, yes, but cut from differing cloths).
With that in mind,
Iron Man
remains the finest all-out superhero movie of 2008--much more comprehensible and enjoyable than
The Dark Knight
--because it convinces us that Tony Stark is
identical
both outside and inside the Iron Man suit. This is only one reason why
Iron Man
is superior to
The Dark Knight.
And also: again,
The Dark Knight
would be a blah movie without The Joker. But who remembers the villain in
Iron Man
? No one. Why? Because the villain isn't the
point
there. The point is Tony Stark, our hero (humorously flawed as he is).
He's
the center of attention. And Robert Downey Jr's funny, gutsy, smarty-pants performance is the jewel in the movie's crown.
Now, why am I talking about
Iron Man
and
The Dark Knight
so much in a review that's ostensibly about
The Fall
? Simple.
The Fall,
too, is about superheroes. But it casts them as vulnerable humans.
AND
it takes care to recognize what worth such characters add to our lives. These are exactly the elements that superhero movies need to survive and thrive.
The Fall
takes place at a Los Angeles hospital in the 1920s. Roy (Lee Pace) is a different kind of superhero--a silent movie stuntman. But he's been explosed to a glum reality: he's not indestructible. He's been seriously injured while performing superhuman feats for the camera. Now he's in this hospital, recovering not only from paralysis, but from a broken heart as well. It is the latter malady, in fact, that has festered and become more serious. Jilted in romance, Roy now wants to take leave of life by suicide. Only problem is, his damaged legs won't allow him to procure the morphine needed to ensure his death.
The Fall
is very much also about lies and their intrinsic relationship to storytelling, so it shouldn't come as a shock that Roy feels forced to
LIE
to someone in order to get his precious morphine. That someone is Alexandria, played by the mesmerizing Catinca Untaru. Alexandria is a vivacious, intelligent 6-year-old with an arm that may or may not have been broken by an abusive father. While poking around the hospital, she strikes up a conversation with Roy, and the two become fast friends. Desperate to connect with someone, Roy also targets Alexandria as someone who can be easily manipulated. So he regales and slyly blackmails her with episodes from a floral fairy tale involving six incredible men: The Blue Bandit (played by Emil Hostina at first, then later by Pace); explosives expert Luigi (Robin Smith); master of knowledge Charles Darwin (Leo Bill); an all-powerful Indian (Jeetu Verma); a mystical swordsman (Julian Bleach); and a muscular African slave (Marcus Wesley). This unforgettable team of heroes band together on a hunt for the head of the evil Spanish Governor Odious (Daniel Caltagirone), who's horribly (and humorously) wronged them each.
Roy's telling of this story -- or, more specifically, Alexandria's
imagining
of it -- provides
The Fall
with its most stupendous imagery. Some reviewers faulted the film for not making this part of the movie more clearly plotted. But the fact is that the fantastical portions of
The Fall
do
not
constitute the film's point; they are, after all, representations of a story that's being made up on the fly, for ulterior motives, and as such the story's holes intentionally appear. These
are
lusciously fun scenes to watch, but Tarsem Singh clearly wants to interest us more in how the bond between Roy and Alexandria is to play out. That said, just take a look at this gorgeous gallery of images from the fantasy sequences in
The Fall
and tell me, with a straight face, that this is not a movie that NEEDS to be seen.
Pace and especially Untaru are mesmerizing in their roles. In reading about
The Fall,
I've discovered that Singh actually tricked Untaru--who was too young to take direction--into delivering much of her performance, filming when she wasn't aware that the cameras were rolling. This doesn't make her showing here any less perfect. Untaru, with her chubby face and big eyes, delivers for me the single best bit of acting of 2008. And Pace is nearly her equal! Their funny, quirky, emotional scenes together are unforgettable.
I love how
The Fall
ends up being a movie about the movies. It makes the connection between the wonder moviegoers must have felt at watching the world's first films being projected right in front of them, and the wonder most of us present-day moviegoers want to feel again. And I love how, even though it's a superhero movie, it's quick to remind us that even superheroes must die. And I love that the film is basically an extended homage to
The Wizard of Oz
(each of the fantasy characters also appear in Alexandria's "real" life--just like The Tin Man, The Cowardly Lion, The Scarecrow, The Wicked Witch, and The Wizard were "played" by people in Dorothy's Kansas).
Here at 2008's end, I'm wondering still why I'm not hearing more about
The Fall
. Why is it not on more year-end top ten lists? And why is it not in serious contention for the Best Picture Oscar? It's the year's biggest independent movie, fully financed by the money Singh made by directing TV commercials and music videos (the globetrotting Singh worked for four years on the film, and must have set a record for the number of locations used: the hospital scenes were filmed in South Africa, and the fantasy scenes were filmed in--get this--India, Indonesia, Cambodia, Brazil, Los Angeles, France, the Fiji Islands, China, Romania, Bolivia, the Czech Republic, Turkey, Nepal, Egypt, Argentina, and the South Pacific's Andaman Islands). It clearly sports the year's most opulent production design (by Ged Clarke), costumes (by
Bram Stoker's Dracula
Oscar winner Eiko Ishioka), music (by Krishna Levy), makeup (by Leon Von Solms), and photography (by Colin Watkinson). And, written by Singh, Dan Gilroy and Nico Soultanakis, it easily stands alongside Charlie Kaufman's also-underseen
Synecdoche, NY
as 2008's most original movie (even if it
is
a remake of an little-seen 1981 film called
Yo Ho Ho
). It's a mystifying crime of colossal magnitude that
The Fall
isn't being seen and loved by more people. It certainly has more brains, heart, and pure gumption than that lazy ol'
Dark Knight
.