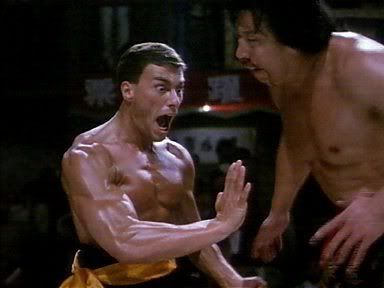 I've never sat all the way through even one Jean Claude Van Damme movie. Not one.
Bloodsport, Universal Soldier, Kickboxer, Street Fighter,
even John Woo's
Hard Target
? Sorry. Missed 'em. I despise the conversion of video games to movies, so should I why waste my time hoping each one is gonna be good? So I went into
JCVD
with low expectations, even though I've been told by some very reliable sources that it displays a different side to Van Damme. But I was rewarded mightily upon seeing it, because
JCVD
is not only a crack action movie (with more than a few nods to Lumet's
Dog Day Afternoon
), it's also a witty commentary on fame, responsibility, and movie-inspired heroism.
Mabrouk El Mechri's film, shot in near black-and-white, follows a sadly depleted Van Damme. The actor (playing himself) is going through a relentless child custody battle in which his own violent movies are held up as judicial evidence towards his unsuitability as a father. He's being hounded by pesky tax problems. And, at a fit but tired 48, he's finding it difficult to complete the sort of bang-up martial arts scenes that made him a star (the film's opening shot is hysterical). So he returns to his home country, Belgium, in order to start what he hopes to be a quieter life. But it's not to be.
Told in a time-jumbling fashion,
JCVD
finds Van Damme bedeviled and gifted by the inescapable trappings of his muscled persona. Even in Brussels, he's a star--in fact, he's
more
well-known there because he's their hometown boy. So he's still has to take time out of his messed-up life to pose for pictures with adoring fans, and if he refuses any autograph requests (as he does with a gabby female taxi driver), he's raked harshly over the coals (the scene in which he apologizes profusely for his rudeness to this cab driver reminded me of Scorsese's
The King of Comedy
in which Jerry Lewis is repeatedly being castigated for refusing his fans' requests for face time).
Van Damme exits the cab and asks the driver to wait while he visits a post office to pick up money that's been wired over. It's here that things get complicated, requiring the actor to prove himself in unusual ways. I'll stop there, because
JCVD
will impress more if its charms are discovered one by one. Suffice it to say that Van Damme delivers an astonishing performance (one scene, in particular, will have you hanging intently on each word); director/co-writer Mabrouk El Mechri makes incisive use of talents we never knew the man had (as well of those for which he's most famous). Delightfully self-reflexive and nearly always chaotic,
JCVD
deserves a wide cult following once it hits DVD, because it's entertaining, revealing, and ultimately quite moving. How amazing is that?