It being Christmas Eve, 2008, I figured I'd offer up a recommendation for a holiday movie everyone should enjoy, but relatively few movie lovers ever site in this manner. Australian director Gillian Anderson delivered quite a lovely screen version of Louisa May Alcott's perennial classic
Little Women
in 1994, and though it's not a Christmas movie per se, it sure feels like one. In fact, watching
Little Women
is not unlike cuddling up with your loved ones in front of a warm fire, as the lights twinkle on the tree, the snow billows outside a vast picture window, and the musty scent of hot chocolate wafts in from the kitchen. It's just that cozy a picture.
Episodic, and largely plotless,
Little Women
charts ten years in the lives of the March women--mother Abigail (called "Marmee" by her hatchlings, and played with verve by Susan Sarandon) and her four daughters: fledgling writer Jo (Winona Ryder), shy Meg (Trini Alvarado), quiet homebody Beth (Clair Danes), and the boisterous Amy (played both by the young Kirsten Dunst, and then in later ladyhood by Samantha Mathis). If the film does have a story arc, it lies in the search by all four of these girls to find love and personal identity as they weather poverty, illness, family strife, and loneliness for their father, who's off fighting in America's Civil War.
The male side of this film's cast is as stellar as its female coterie. Christian Bale officially made the jump from child actor (
Empire of the Sun, Newsies
) to adult star with his showy supporting role as Laurie, the wealthy next-door neighbor's son who's smitten mightily with the March family. Gabriel Byrne is fine as Friedrich, the wise literature maven whom Jo falls for in her writerly sojourn to New York. And Eric Stoltz--who, that same year, delivered another impressive supporting role in a very different movie called
Pulp Fiction
--plays Laurie's ultra-serious teacher who's wandering eye is also drawn to the Marchs. Add to the mix veteran character actress Mary Wickes in her final film role as the snooty, headstrong Aunt March, and you get a playbill that's quite difficult to best.
In cinema history,
Little Women
hit the big screen twice before: George Cukor delivered a 1938 version that starred Spring Byington as Marmee, Katherine Hepburn as Jo, Frances Dee as Meg, Jean Parker as Beth and Joan Bennett as Amy; then, in 1949, Mervyn LeRoy directed a version with Mary Astor (Marmee), June Allyson (Jo), Janet Leigh (Meg), Margret O'Brien (Beth) and Elizabeth Taylor (Amy). Both adaptations are worth catching, especially considering their star power. However, surprisingly, Gillian Anderson's version is the definitive one; it is warm, funny, empowering, and highly, wonderfully sentimental (plus its casting, unlike on previous attempts, is pitch perfect).
Though Winona Ryder was the only lady in the movie to garner an Oscar nomination--in what's certainly one of her finest on-screen showings--I guarantee there will be two supporting performances that will
really
knock your socks off. The 11-year-old Kirsten Dunst, who'd only debuted in movies months before with a showy role in Neil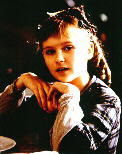 Jordan's
Interview with a Vampire
, carved another notch into an instantly promising career with her performance as the young, chatty Amy. She gets most of the movie's laughs with her endless kvetching about bringing limes to school, her witty home truths ("You only need one boy--if he's the right one"), and her silly brattiness (the moments where she takes revenge on Jo in a most unsettling manner come to mind here, as well as here reaction to Jo cutting off her hair to provide money for her family: "No! Jo! Your one beauty!"). If the movie strikes even one disappointing note, it's that Dunst isn't able to appear in the latter half of the film, as she's replaced by the older Samantha Mathis (it's intrinsic to Amy's character that she grows up to be a more refined lady, but Anderson's film loses a little steam without Dunst's brassy presence).
Most surprisingly, though, it's the quietest member of the cast that gets the tears rolling down my face every time I watch
Little Women.
Clare Danes plays the least ambitious of the March clan, Beth, with a boundless surplus of heart. Sickly and unfailingly domestic, her Beth is unbelievably sweet, and unjustly low of self-esteem. Though she has many fewer lines than her counterparts, she's at the center of the film's two most heart-tugging scenes (which I won't give away here). Suffice it to say that her one monologue in the movie will have you grabbing for a hanky or two--and I don't care how hard-hearted you are.
There are a few sparkling yuletide scenes in this snowy, New England-set tale that cement my proposition that
Little Women
is an unsung Christmas classic. And there are further gifts under the film's tree: the snappy, never-boring screenplay by Robin Swicord (co-writer of this year's
The Curious Case of Benjamin Button
); the lush, even heartbreaking score by Thomas Newman--one of the 50 best examples of movie music in the history of cinema (and which was also nominated for an Oscar, as was Newman's other shining 1994 contribution to film music,
The Shawshank Redemption
); Colleen Atwood's perfectly detailed costume design; and Geoffrey Simpson's gorgeous lensing, which offers us creamy pastels, toasty reds, and blinding ice whites. Do yourself a favor: this Christmas, treat your family--especially if you have some budding ladies in the house--to
Little Women
, and bathe yourselves in its abundant warmth.