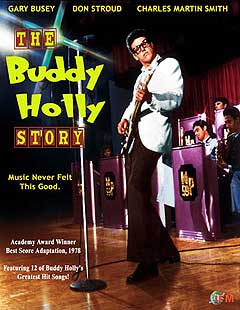 Some people out there may see Gary Busey as a punchline these days, after his reality show appearances and much-vaunted, helmetless motorcycle accident in the late 90s. I don't because, in 1978, he garnered a well-deserved Oscar nomination as Best Actor for the unlikely achievement of embodying early rock and roll's greatest poet, and ever since, I've always enjoyed seeing him in whatever he appears in, for however long. He's always a unique presence, never more so than in Steve Rash's
The Buddy Holly Story,
where he donned those famous horn-rimmed glasses to play the man from Lubbock, Texas who, in his tragically short career, fooled all the radio guys who thought he was black (can you imagine that??) into putting him on the "colored music" charts.
With hits like "That'll Be The Day," "Peggy Sue," "Oh Boy," "Rave On," "It's So Easy," "Well All Right," and "True Love Ways," Holly transformed this then-young music form into something altogether more heartfelt and foot-stompin'. Though the film is not anywhere near accurate (Holly's notoriously hot-tempered producer Norman Petty never makes an appearance), it's still an enrapturing tale that takes Holly and his band the Crickets (played by Don Stroud and
American Graffiti
's Charles Martin Smith) from snapping out tunes at a Texas roller-skating rink to being tourmates with the likes of Jerry Lee Lewis, Sam Cooke, The Big Bopper, Richie Valens, Eddie Cochran, and King Curtis. Just look at this dynamic scene where he and the Crickets break the race barrier at New York's Apollo Theater.
There's not much of a story here; Holly's career was too short for all the normal musical bio-pic ups-and-downs (which, as unfortunate as that is, makes for a radically different film than most in the genre). Even so, Busey's ebullient aw-shucks delivery, coupled with Rash's carefree directorial style (very good period detail here, despite an obviously low budget) and Robert Gittler's like-minded screenplay, make
The Buddy Holly Story
one of the most watchable musicals around. It should impress any viewer that Busey, a former drummer for Kris Kristofferson, Leon Russell, Bob Dylan and Willie Nelson, plays his own guitar and sings (Stroud and Martin played their own instruments as well). The score, adapted by Joe Renzetti, took home an Oscar in 1978, too. I don't have much else to say about this simple movie--just watch it, so you can be informed on just how Busey made it up to the big time in the first place. And remember to pay homage to Holly, while you're at it. Where would rock be without him?