Here it is, a day or so since my last post about
Ryan's Daughter,
and I discover that the film's great composer, Maurice Jarre, passed away in Los Angeles after a short illness. This, of course, fills me with as much sadness as his movie music moved me to excitement, tears, or even laughs. Jarre began his career in the mid-1950s scoring French titles, the most famous of which is now Georges Franju's 1960 horror masterpiece
Eyes Without A Face
.
He broke through to Hollywood in 1962 when he was chosen to score Darryl F. Zanuck's WWII epic
The Longest Day.
However, that same year, he pulled off an unusual hat trick: he provided music for
Sundays and Cybele
(winner of 1963's Best Foreign Language Film Oscar) and for David Lean's monumental
Lawrence of Arabia,
1962's Best Picture winner (Lean's producer, Sam Spiegel, had heard his work for
Sundays and Cybele
and recommended him to the director). It was his
Lawrence
score, of course, that changed many lives, including his own. He easily nabbed the Academy Award for this alternately jaunty, sweeping, and menacing music; seriously, would Lean's movie be nearly as great without it? Maybe, but it seems unlikely; matched with the film's majestic images, it's soars.
Thus began a 20-year collaboration with David Lean, the great British director who would never again turn to any other composer. Jarre would score his biggest hit in 1965 with his soundtrack to Lean's
Doctor Zhivago,
for which he would pick up another Oscar, a Golden Globe, a Grammy, and countless weeks on the Billboard charts. His "Lara's Theme" (later titled "Somewhere, My Love" when lyrics were added) would become the 60s generation's equivalent of Max Steiner's iconic score for
Gone With the Wind
; hearing it immediately conjures up images of wartime strife, lovely springs, and undying romance. Jarre would do less popular but no less effective work on Lean's
Ryan's Daughter
, and would reteam with Lean one more time on the director's final 1984 film
A Passage to India
, providing that mysterious movie with a romping soundtrack that earned Jarre his third Oscar.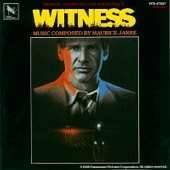 Outside of his work for Lean, Jarre composed over 150 scores for movies that captured the heroics of
The Man Who Would Be King
(Huston, 75), the swirls and twirls of
Isadora
(Reitz, 68), the wackiness of
Top Secret!
(Zucker/Abrams/Zucker, 84), the mystery of
After Dark, My Sweet
(Foley, 90), the romance of
Ghost
(Jerry Zucker, 90), and the horror of two Adrian Lyne movies, 1987's
Fatal Attraction
and 1990's
Jacob's Ladder
(Lyne, 90). In the 1980s, he'd also begin another long collaboration with a director, this time
Australian Peter Weir, for whom he provided gorgeous, often electronic-based scores for 1982's
The Year of Living Dangerously,
1985's
Witness,
1986's
The Mosquito Coast,
1989's
Dead Poet's Society,
and 1993's
Fearless
(
Witness
and
The Mosquito Coast
are excellent scores by which to meditate).
Jarre was a undisputed master; he'd just received a Golden Bear at this year's Berlin Film Festival for his lifetime's worth of incredible film music. He will most certainly be missed.