Well, I made my debut on Internet TV--more specifically, on "The Latest Show on Earth," hosted by Joe Hendel (www.downtowntv.com, www.thelatestshowonearth.com). Like you may have read on my earlier post, I have live TV experience, so it was a real trip back to those times for me. I'm a little rusty, but I think I aquitted myself nobly, making my picks for the Oscars on the show. Joe, a customer I met at Kim's Video, called me and wanted me to be a guest (along with party rocker/motivational speaker Andrew WK, pictured above). I like Joe
very much and was honored to be asked, so I jumped at it. It was a great experience I hope to repeat, especially since Joe is so wryly funny and quite talented musically as well. So check it out on the show's online archives. Andrew (who was extremely kind and soft-spoken) and Joe do a great keyboard jam/duet that features a killer sampling of Bach's Toccata and Fugue in D minor. I was also floored to meet the show's producer, Steve Paul, the storied New York club owner who opened the first discoteque in New York in the 1960s, The Scene (which sported acts like The Doors, Jimi Hendrix, Fleetwood Mac, Pink Floyd and The Velvet Underground, and assuredly many, many others). I look forward to talking with him in the future, since he's fascinating and funny.
It's snowing pretty heavily here in Brooklyn. It's been seeming like it snows on significant days for me recently. I don't know what that's about. Probably all in my mind... or...maybe...NOT!?!
For those who may know me, I've taken a break from my grind at Kim's Video, so's I can concentrate on getting a better gig. Hope it happens soon, 'cause the cupboard's bare. There's like, one piece of lettuce and some butter in my fridge (...want some buttahed luttuce??). Working at Kim's is fun but it's a drain on me physically and mentally. Typically, Ill be asked to answer, oh, 150 or more movie questions in 8 hours, which it's that I can flex my movie knowledge like that, but it's exausting, too. Still, I love all the customers--so many smart, tasteful people coming in there! And my fellow employees--Ricky, Abe, Nicholas, Katherine, Joel, Jeff, Anya, John, Joel, Vadim, Nick and Alex, chief among them--are all people I consider great friends. Plus, the place has every movie known to man--I swear, I've found only a few tiny holes in their collection. Everything is meticulously categorized by country and director. For me and all cinephiles who rent from the place, it's the candy store of video outlets. It deserves its legendary status.
Anyway, onto the movie stuff. Saw
No Country for Old Men
for the second time tonight, an experience that was in some ways richer than the first. I was amazed at how the film's depiction of a crime gone wrong (a favorite subject for the Coens) got me wincing and my circulation racing once again. I was more impressed by Josh Brolin, in particular, this time round; his character's steely actions drive the movie, but because his performance is so quiet, I don't think he's gotten the recognition he deserves. I also paid special attention to the outstanding sound design for the film. Skip Lievsay's sound effects work for this largely music-less movie acts as a sort of de facto score, mesmerizing and totally transportive. And, also, I should mention that the movie is actually funnier than I remember it. Despite the preponderance of bloodied corpses, I still get lots of chuckles from Tommy Lee Jones' home truths, Woody Harrelson's swagger, and Javier Bardem's brazen psychosis. I tried to keep a body count going, by the way, but I lost it around twenty-five. Exausted from all the tension, my mind still drifted away at the film's very plaintive, even Bergman-esque climax, which I could kick myself for, since I really wanted to decipher the language of its final scenes. But I suppose this will make it prime for another viewing when it hits DVD in March. A magnificent film, this, very much in keeping with
Fargo
and the Coens' debut
Blood Simple.
And poised to be the best Best Picture winner since
Unforgiven
in 1992 (though I love 1993's
Schindler's List
as well).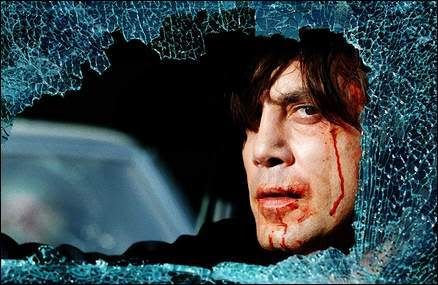 Okay, just for the record, even if it's boring to you--my predictions for the 2008 Oscars:
Best Picture:
No Country for Old Men
Best Actor: Daniel Day-Lewis,
There Will Be Blood
Best Actress: Julie Christie,
Away From Her
(Marion Cotillard could upset with her perf in
La Vie En Rose
)
Best Supporting Actress: Amy Ryan,
Gone Baby Gone
(though Ruby Dee might get in there; I waver back and forth on this one).
Best Supporting Actor: Javier Bardem,
No Country For Old Men
Best Director: Joel and Ethan Coen,
No Country For Old Men
Best Original Screenplay: Diablo Cody,
Juno
Best Adapted Screenplay: Joel and Ethan Coen,
No Country for Old Men
Best Animated Feature:
Ratatouille
Best Foreign Language Film:
Beaufort
(Israel)
Best Cinematography: Robert Elswit,
There Will Be Blood
Best Art Direction:
There Will Be Blood
Best Costume Design:
Elizabeth: The Golden Age
Best Film Editing:
No Country For Old Men
Best Sound:
No Country For Old Men
Best Sound Effects Editing:
No Country For Old Men
Best Original Song: "Falling Slowly" from
Once
Best Original Score: Dario Marianelli,
Atonement
Best Documentary Feature:
No End In Sight
(going out on a limb here, over Michael Moore's
Sicko
)
Best Documentary Short:
Freeheld
Best Animated Short:
I Met The Walrus
Best Live-Action Short:
Tanghi Argenti
Best Visual Effects:
Transformers
Best Makeup:
Norbit
Okay, let's see how I do!
Well, my second film I've picked to review is George Sidney's
Bye Bye Birdie
, an adaptation of the 1961-62 broadway hit about an "Elvis-like" rock and roll singer who's been drafted into the Army and the furor that surrounds one family as the daughter (Ann-Margret) is chosen to be the one fan that gets to give him a going-away kiss on "The Ed Sullivan Show." I put "Elvis-like" in quotes because the meatball Jessie Pearson, who stumbles through as idol Conrad Birdie, was and never could be anything like the real Elvis. In fact, his lame songs bespeak to the filmmakers' and the composer Charles Strouse's probable disgust with rock-and-roll as a phenomenon. Ditto the casting of Pearson himself, whose ultimate blandness could never engender the sort of chaos that greets his every scene.
Now, this movie has a lot of things wrong with it, particularly in its drab second half (and I couldn't care less about the romance between songwriter Dick Van Dyke and his booster girlfriend Janet Leigh, which is constantly gumming up the works). But I reccommend it largely for one reason and one reason alone: Ann-Margret. Now I must confess a bias here: I'm in love with Ann-Margret--if ya ask me (and Lindsay Lohan), she's the movie goddess of all time! Here, as Kim, she's at her most fresh-faced and well-scrubbed. Her three numbers are superb--the impassioned opening title song, with her performing on a treadmill against a deep blue background; "How Lovely to Be A Woman," which catches what every male wants to see, albeit perhaps in more lurid detail: a saucy Ann-Margret changing clothes in her frilly bedroom; and "One Boy," sung wide-eyed and lovingly to the goony, doesn't-deserve-her Bobby Rydell. I treasure every moment I get to ogle this woman's curves, her ocean blue eyes, strawberry blonde hair and her apple cheeks...well, I just better stop, 'cause I'm gettin' myself worked up. See her for yourself, then also check out
Tommy, Viva Las Vegas
, and
Carnal Knowledge
and you'll know why I adore her and hold her up as one of the ideal women the world has known.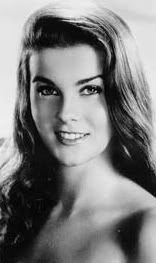 I like some other things about
Bye Bye Birdie
. "The Telephone Song" is inventively directed, Paul Lynde, himself with two memorable songs "Kids" and "Ed Sullivan," gets loadsa laughs as Kim's father (right!! Like
that
could happen...), Maureen Stapleton injects some life into the boring Dick Van Dyke parts, and it's cool to see Ed Sullivan playing himself. But the film is obviously anti-rock and roll, and it contributed the annoyingly cheerful "Put On A Happy Face" to the popular culture. However, I'd watch the first half of it again any day, just to see Ann. It's really her movie.